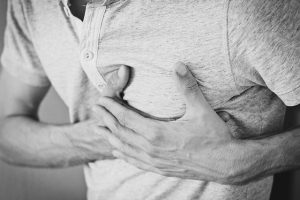 There are different types of chest pain. And then there is chest pain that occurs in your heart and at times you might feel like you are having a heart attack. This is not a heart attack but a condition known as Angina.
Angina (an-JI-nuh or AN-juh-nuh) is chest pain or discomfort that occurs if an area of your heart muscle doesn't get enough oxygen-rich blood.
Angina may feel like pressure or squeezing in your chest. The pain also can occur in your shoulders, arms, neck, jaw, or back. Angina pain may even feel like indigestion.
Angina isn't a disease; it's a symptom of an underlying heart problem.

Full Post